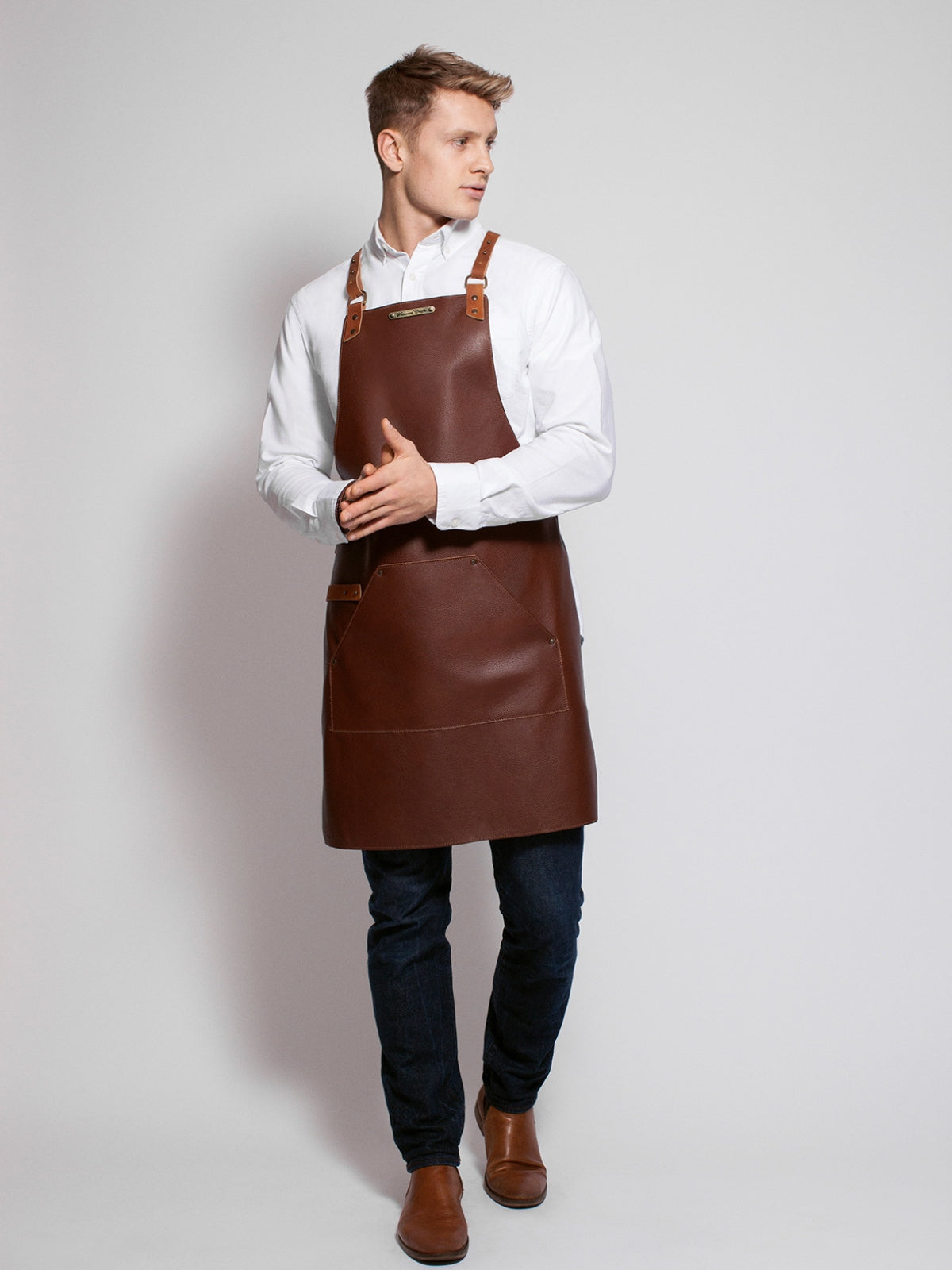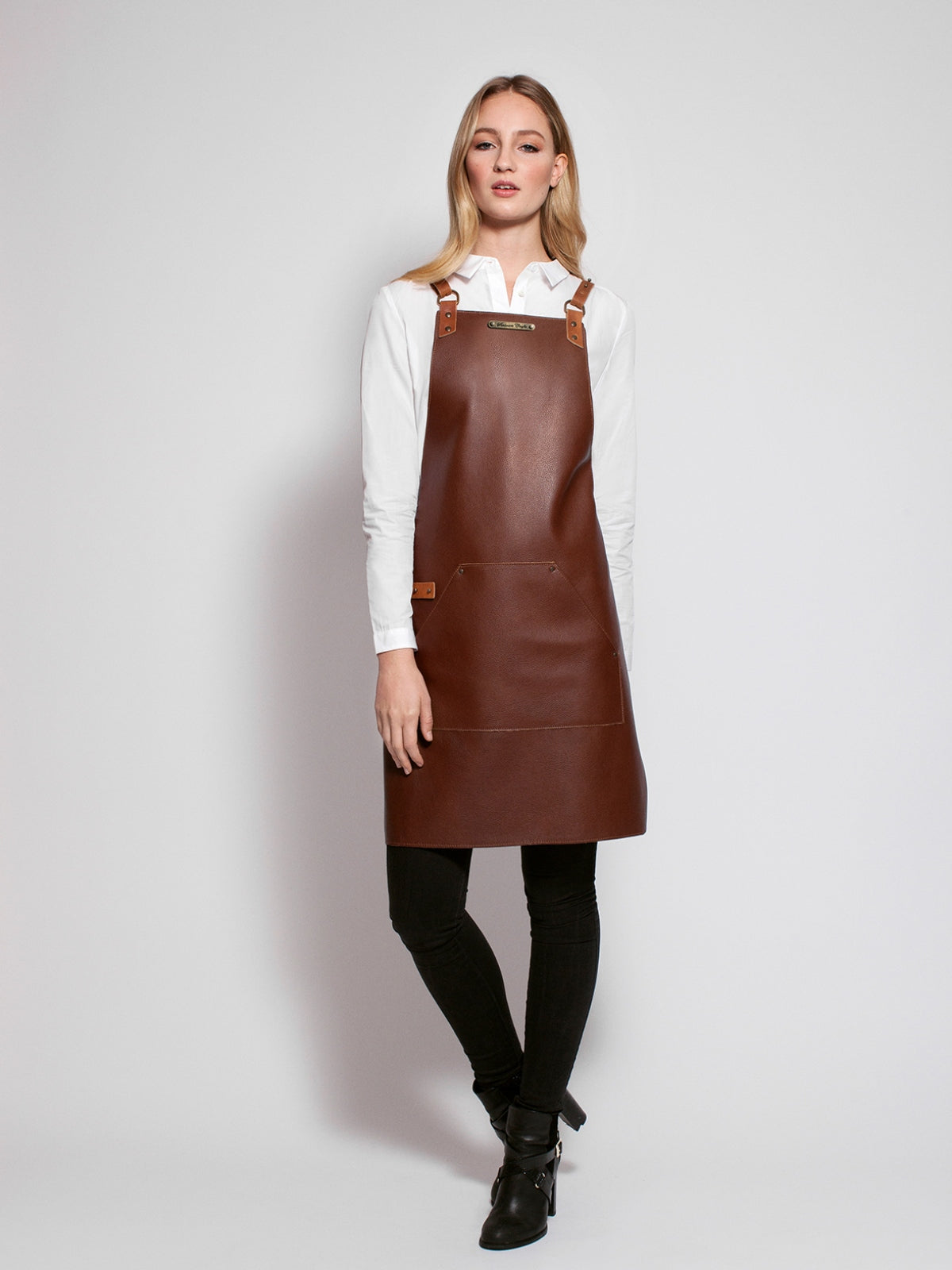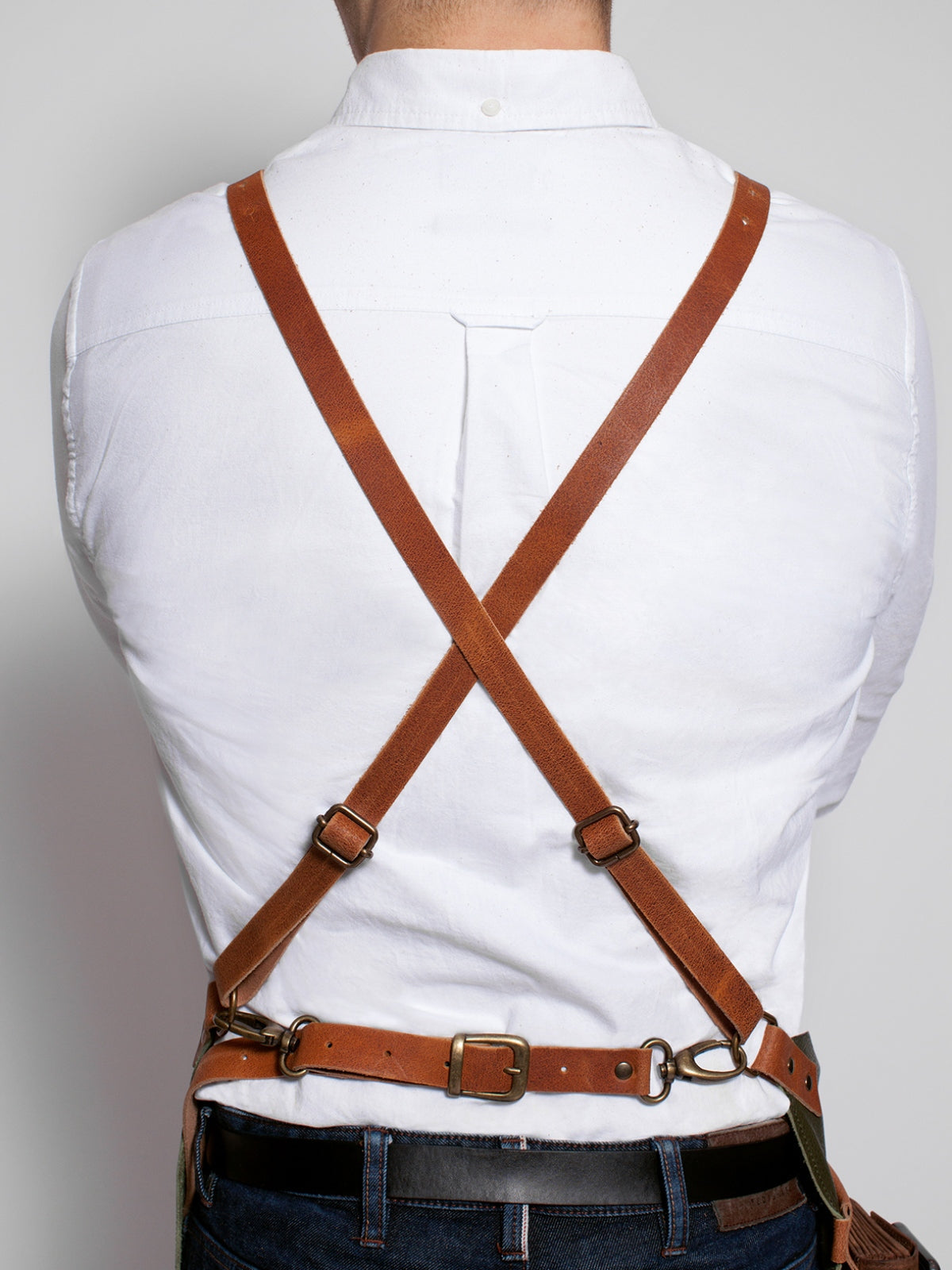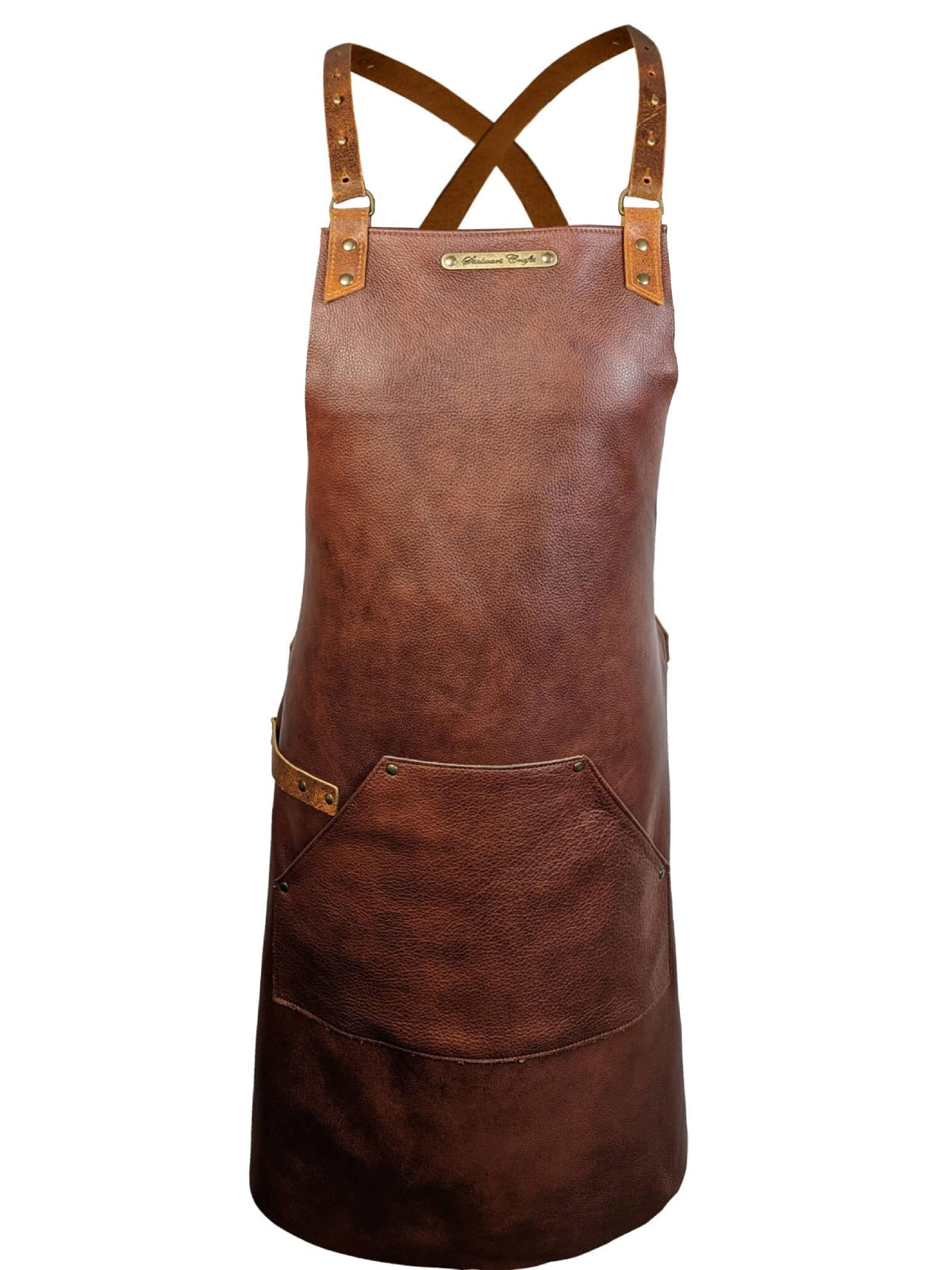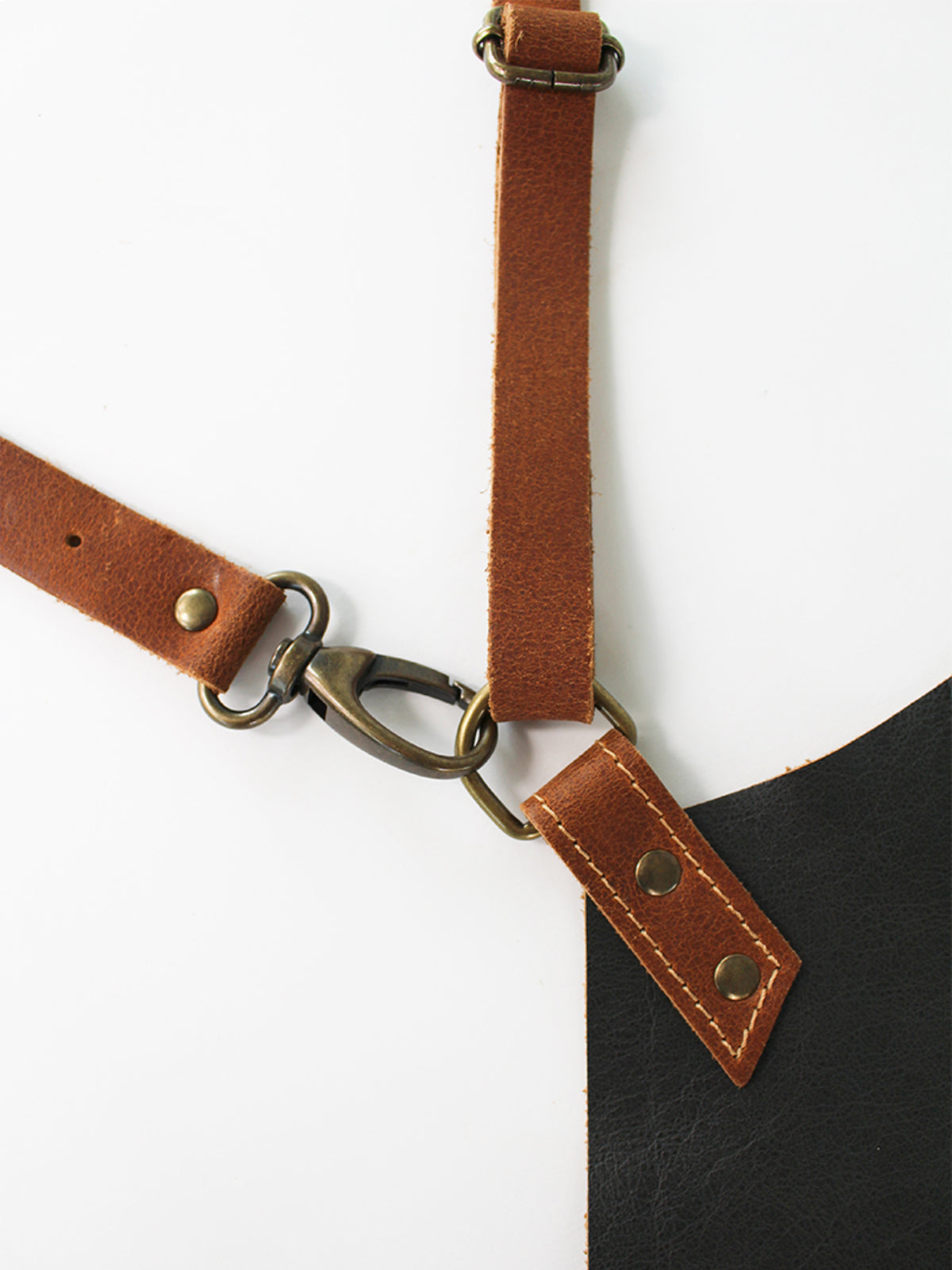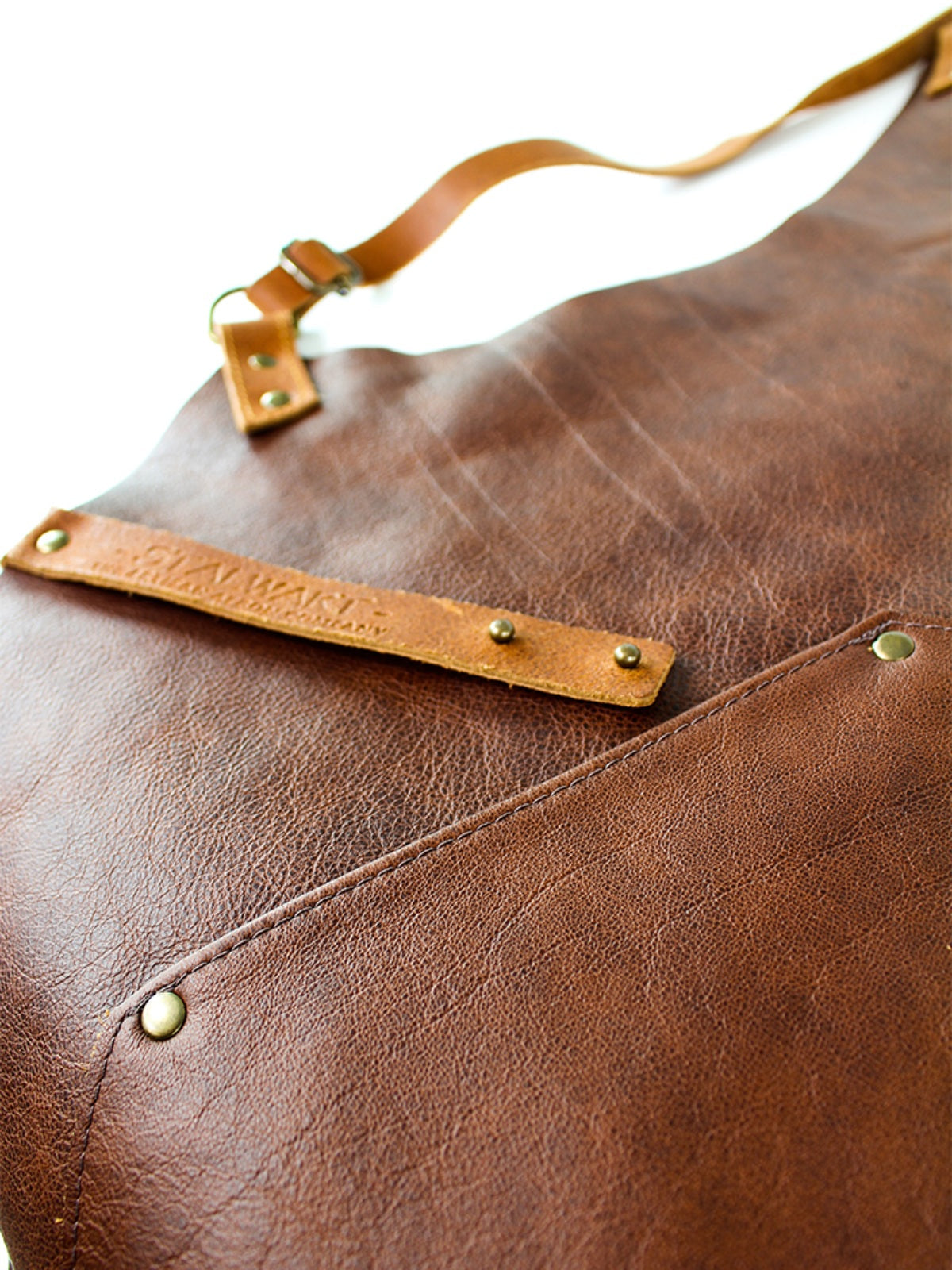 Leather Apron Cross Strap Deluxe Brown
Sale price

€198,00
Regular price
(/)
✓ Crafted from premium full grain leather
✓ Adjustable at 5 Different Points
✓ Compatible with Leather Pouch (not included)
Features & Details

✓ Easy clip hooks- put on and take off the apron in seconds
✓ Unisex, one size fits all
✓ Possibility to attach our leather pouch
✓ Adjustable at 5 different points
✓ Customizable with logo or name(optional)
✓ Extra storage with a big front pocket which has two openings

This apron has a narrower shape at the chest, which gives you lots of flexibility and mobility while keeping that smart and professional look.

Finished with a coating layer which ensures the aprons are easy to clean time after time, even oil will simply drip off the apron without leaving a stain. Eye for detail, you will see when you have the leather apron Cross Strap Deluxe in front of you that we do not make any compromises.

Made out of durable materials, fine stitch work and a completely new eye-catching design which makes this apron complete. The cross-belt straps give you incredible comfort day in day out through its well-designed leather cross belt feature, as well as large size adjustment ranging from size S to XXL.
Care

We understand the value of your leather apron, and we want to ensure it remains as stunning and long-lasting as the day you first put it on. Proper care is essential to preserve the look, flexibility, and durability of your apron, allowing you to continue using it for years to come. 


Perfect Coating

Our leather aprons are not only supple and light to wear, but they are also treated with a waterproof coating that enriches the leather's color and gives it a subtle shine. This impregnated coating is permanent and ensures that liquids and dirt merely rest on the surface, making the aprons exceptionally easy to clean and maintain.



Your Leather Apron Over the Years

As you wear your new leather apron, its appearance and character will evolve. The apron will soften up and mold to the shape of your body, gaining more character day by day until it truly becomes your personalized apron.



Store Your Leather Apron

After a productive day of using your apron, it is best to store it by hanging it on a hook. This not only showcases the apron as an art piece in your kitchen, bar, atelier, or workplace but also maintains its natural shape and prevents folding lines. If you're taking the apron on a journey, roll it from the bottom to the top to avoid folding lines. In case folding lines do appear, they will naturally come out over time. Alternatively, you can gently iron the backside of the leather to remove the folding lines.

Cleaning Your Leather Apron

Thanks to its unique impregnated coating, our aprons are effortless to clean. Food stains, fat, wine, coffee, or dirt can easily be removed with a lukewarm cloth and a natural soap. Ordinary shampoo for your hair works well as a natural soap for cleaning.

When cleaning, ensure to clean the entire surface of the apron rather than spot cleaning. Avoid using any hard chemicals like saddle soap, cleaning solvents, oils, furniture polishes, varnishes, abrasive cleaners, detergents, or ammonia on the leather apron, as these can dissolve the protective coating, causing the leather to become sticky and cracked.

Keep the leather apron from getting soaking wet and refrain from putting it in the washing machine. In case the leather gets wet, allow it to dry naturally at room temperature. Avoid using heat sources to dry the leather faster, as it may cause the leather to dry out.



Maintenance of your Leather Apron

We recommend treating your leather apron with a natural-based leather conditioner to keep it moist, supple, and protected. Gently apply the leather conditioner once a month or after thorough cleaning using a cloth or sponge. Leave it on for 15 minutes to allow the leather to soak up the conditioner, then gently wipe the apron with a clean cloth. This regular maintenance will ensure that your leather apron remains well-protected and ready for another day of reliable service!
Volume Discount

| | |
| --- | --- |
|  Amount - €  |  Volume Discount - %  |
| + €250,-  | 2% |
| + €500,-  | 3% |
| | 4% |
| + €1.000,- | 5% |
| + €2.000,- | 6% |
| + €2.500,- | 7% |
| + €3.000,- | 8% |
| + €4.000,- | 9% |
| + €5.000,- | 10% |


Ordering over € 5,000 or with complex personalisations? Our Sales Support team be happy to provide you with a custom quote. 
Looking for the ultimate brown apron that will surpass all your expectations? Look no further! Our Cross Strap Deluxe Leather Apron is the crème de la crème of aprons, designed to be as comfortable and beloved as your favorite sweater that you never want to take off.

Crafted from premium full grain leather, this brown apron boasts an ultra-soft texture, ensuring unparalleled comfort during extended wear. Its unisex design and one-size-fits-all feature make it a versatile and perfect fit for anyone. 

Features


Adjustable at 5 Different Points
Achieve a tailor-made fit with ease. Our apron comes with five adjustable points, allowing you to customize the fit to your unique body shape.
Easy Clip Hooks
No more fumbling with complicated straps! Our apron features easy clip hooks, enabling you to put on and take off the apron effortlessly within seconds.
Extra Storage with a Big Front Pocket
Stay organized and efficient with our apron's large front pocket. This spacious pocket offers two openings, providing you with ample space to store your tools and essentials while keeping them within arm's reach.
Compatible with Our Leather Pouch
Need even more storage space? We've got you covered! Our apron is designed to seamlessly attach our leather pouch, offering you additional storage options for your convenience. The pouch is not included!

The Deluxe Leather Apron Cross Strap Deluxe Brown is the ultimate blend of style, functionality, and comfort. Whether you're a professional chef, a bartender, or someone who appreciates fine craftsmanship, our Cross Strap Deluxe Leather Apron is the perfect companion for your daily endeavors.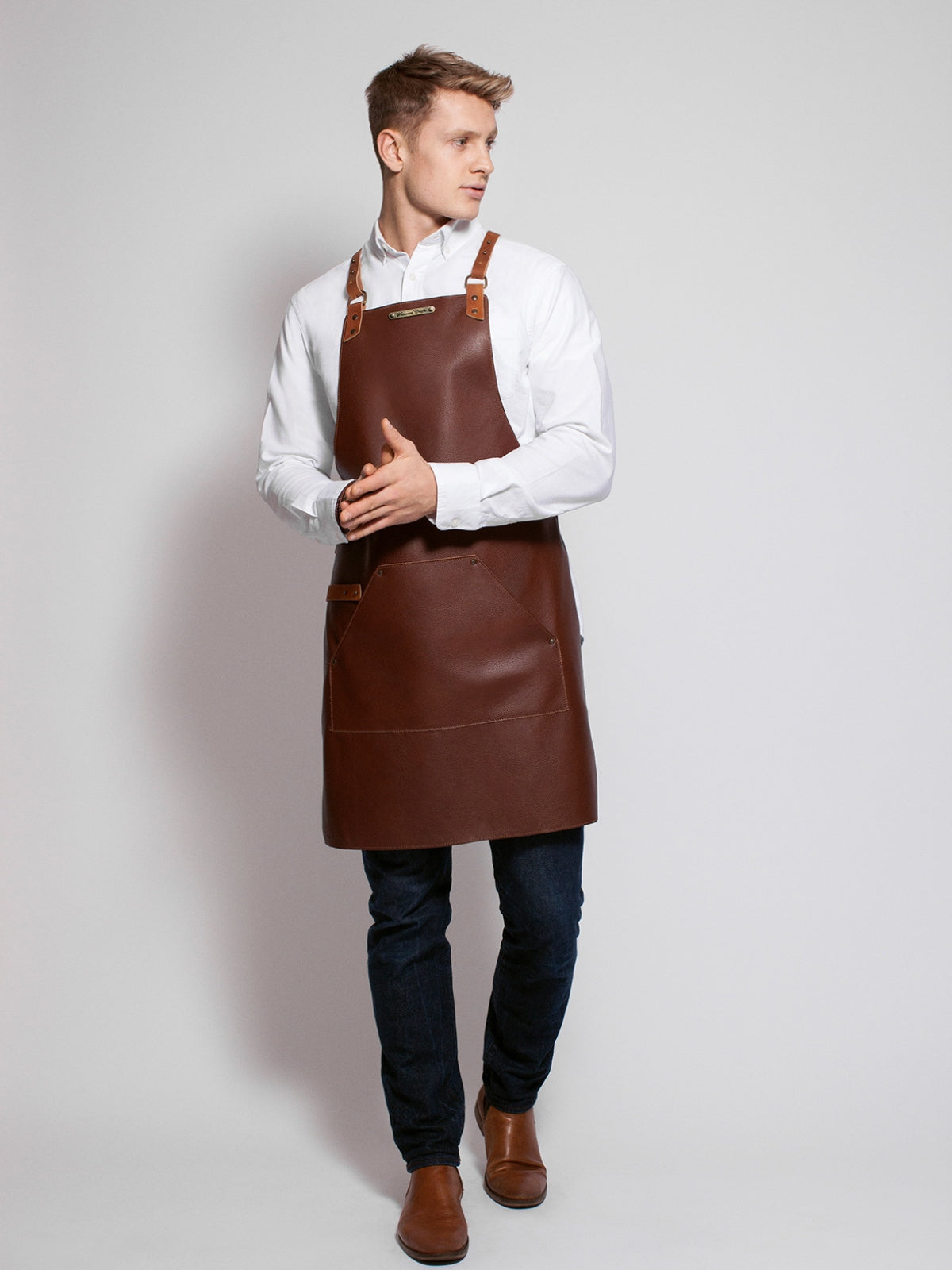 Leather Apron Cross Strap Deluxe Brown
Sale price

€198,00
Regular price
Choose options